So, you know I am a breakfast enthusiast, not a chef, not a caterer, but, well, WOW! A friend requested of me, Mariby, with your flare, would you do this for me? To which I responded, Appetizers, me, really? Never before, no, nothing like this! I was so excited in the planning, the preparation and the execution, as much as just being there, serving YOU! What a treat for me, too - pleasing and pampering you! It's what I do! Just look at what I did, me, ReRe! #ThingsThatMakeYouGoOom
Appetizers Display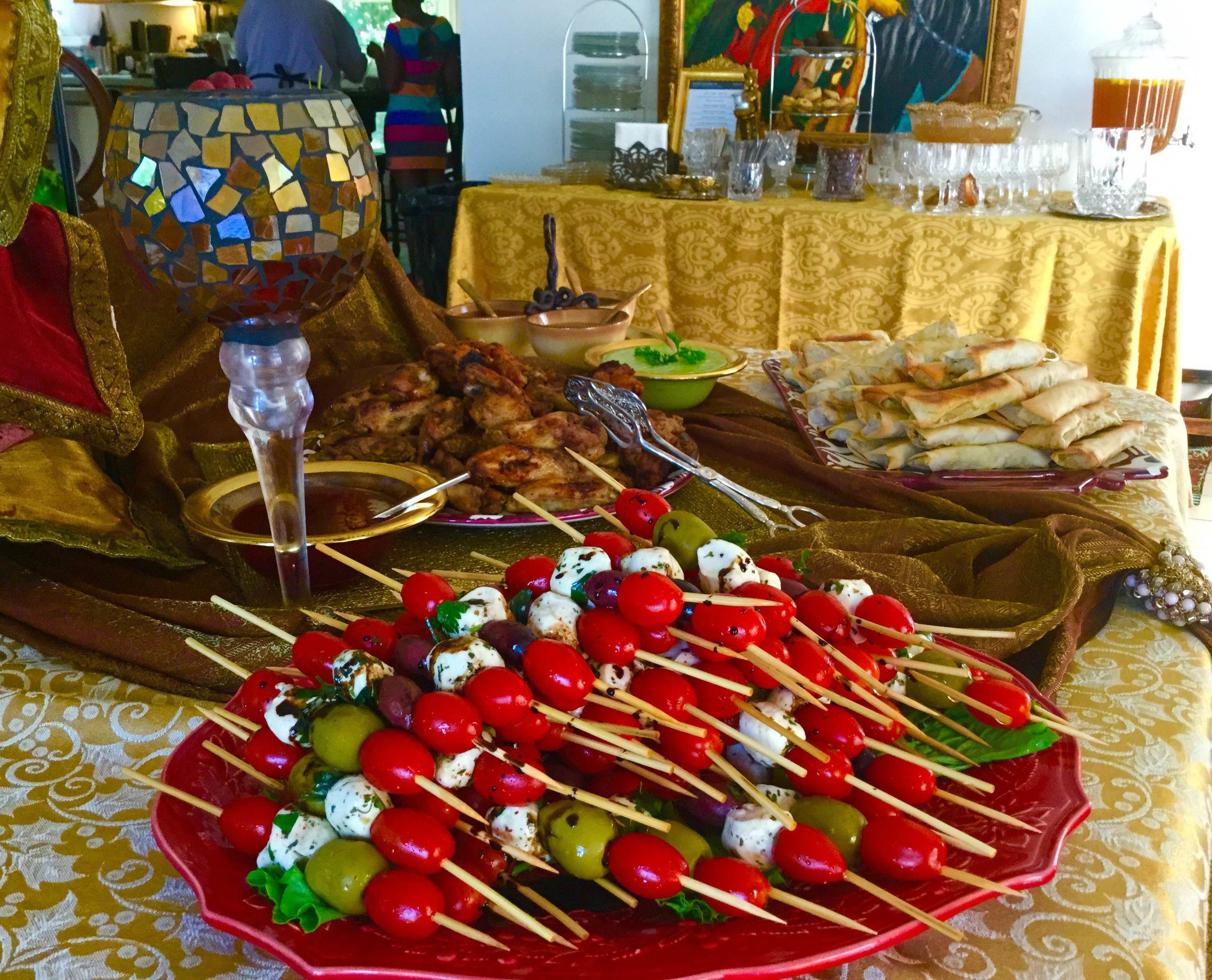 The plan was a healthier mix of vegetarian, along with the standard crowd pleasers, so the menu went like this and dubbed, The International:
Appetizers - The International
Mexican Shrimp Cocktail - which was more of a kicked up seafood cocktail, to include shrimp, crab meat, clams, avocado, fresh hot chili peppers, roasted onions, peppers, sun-dried tomatoes, etc.

Filipino Vegetarian Lumpia - essentially spring rolls stuffed with sauteed carrots, a green and purple cabbage medley and a host of my favorites, like onions, capers, etc., served with the standard of sides - sweet & sour, hot mustard and spicy vinegar sauces.

Peruvian Chicken Wingettes - Peruvian-spiced, roasted and served, of course, with the infamous Aji Verde (green chili) dipping sauce, I make fresh of cilantro, jalapenos, garlic, etc.

Americano Spinach & Artichoke Dip - Fresh spinach, pickled artichoke, mozzarella & parmesan cheeses, baked and served hot from the oven

Italian Insalata Caprese Mini-Skewers - Fresh mozzarella, cherry tomatoes & basil on a stick, drizzled with a Balsamic Vinaigrette

Greek Quinoa Tabouli Salad - a tasty medley of fresh chopped vegetables and quinoa, to which I like to add to the mix some parsley, spring onions, tomatoes, etc.

Seasonal Fruits, Cheeses & Mixed Olive Display - beautifully-arranged assortment of fresh fruits, dried nuts, seeds and fruits, Aged Cheddar, Havarti and Pepper Jack cheeses, mixed olives & caper berries, specialty crackers and dips, etc.
Mariby Corpening's
My First In Afternoon Appetizers
The International
Descriptions, Recipes & Images by Mariby CorpeningTM