This one of #GranniesTonics I just had to share with you! You need to know that Grannie's been working, and by that I mean, steadily researching, learning, testing, finding natural remedies to help lower her blood pressure and, ultimately, to come off her blood pressure medication, all together.
It's Sunday! Y'all know me; I'm resting with my feet up and here's Grannie working hard in the kitchen - Vitamix on full blast! But, on this particular day, I couldn't help but pick up the camera, when I saw on the counter, all of the herbs she'd gathered! So, I asked, Grannie, what are you making with all of that? When she began describing her, Hisbiscus & Ginger (Blood Pressure Lowering) Tea, I just knew that I had to record it. I'm thinking future generations!
Grannie's not into the camera; though, I insisted that she pose with at least one of the shots I took; she even wanted to take off her glasses. I insisted, "No! I want people to see you as you are everyday, in your discipline and what it takes to Right your own natural prescriptions for good health!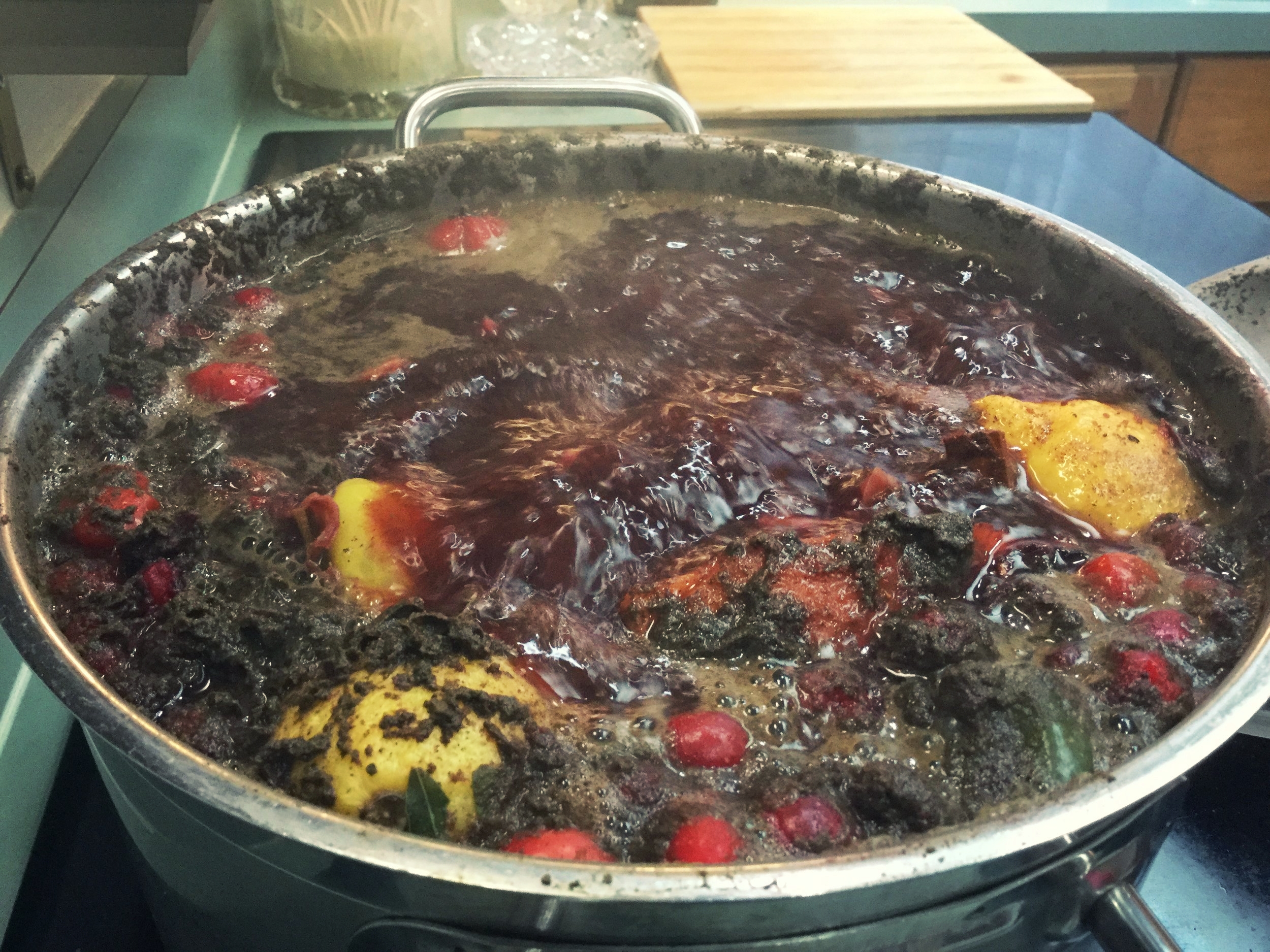 Grannie's Hibiscus & Ginger Tea
Blood Pressure Lowering Herbal Blend
See the list of herbs below Grannie has researched and gathered over the years to make what she calls her, Hibiscus & Ginger Blood Pressure Lowering Tea. To me, it's quite involved, but for Grannie, it's saving our lives; though, for you, Grannie suggests that you may choose to use all or a combination of the following ingredients or just select your preferences and omit any that you have issues with (allergy, intolerance, etc.). While Grannie personally likes a strong concentration of tea, sweetened with lots of honey, she urges you to experiment with your preferences on the strength of the tea. Personally, I like mine light and very little honey! You may prefer yours with or without sweetness! No matter, just get the good stuff in you on a daily basis!
INSTRUCTIONS
Gather your herbs, spices, fruits, etc., measure 1 cup (tea leaves) to 1/4 cup (herbs & spices) of each ingredient (depending on your preference), bring to a boil, then simmer on low for 30 to 60 minutes. After simmer, turn off the burner and let steep for several hours and/or overnight, strain and sweeten to taste with raw honey. Yields 1 gallon; store in the refrigerator (Grannie goes through a gallon in one week).
Grannie drinks 1 cup 3 times a day to help keep her blood pressure under control!
INGREDIENTS
Hibiscus Flowers

Moringa Leaves

Dandelion

Tulsi Tea

Kinkileiba Tea

Gun Powder Tea

Hawthorn Berry Leaves & Flowers

French Lavender Flowers

Olive leaves

Green Coffee Beans

Pomegranate Rind

Amla

Ashwagandha

Cats Claw

UVA URSI Diuretic

Cinnamon

Ginger Root

Parsley

Cardamom

Fenugreek

Cayenne Pepper

Black Cumin Seed

Mango Seed

Grape Seed

Bergamot

Beets

Cranberries

Garlic

Mustard

Onion

Lemon (preservative & flavor)
ADDITIONAL INFORMATION
Grannie says that herbs like Sarpagandha (Rauwolfia serpentina), Brahmi (Bacopa monnieri), Shankapushpi (Convolvulus pluricaulis), Chandana ( Santalum album), etc. can also be taken. All are effective ayurvedic cure and treatment for hypertension.

Herbs like Aloe Gel, Barberry, Katuka, Gotu Kola, Calamus, Valerian, Skullcap, Cayenne, Myrrh, Motherwort, Hawthorn and Jatamamsi should be given priority, as these are known Ayurvedic solutions for disease. #GranniesTonics
*NOTE: Garlic (1 mg of garlic three times a day), mustard and onion!
Grannie's
Hibiscus & Ginger Blood Pressure Tea
A Natural Herbal Remedy For Lowering Blood Pressure
Research & Recipes by Grannie, Descriptions & Images by Mariby CorpeningTM
#GranniesTonics